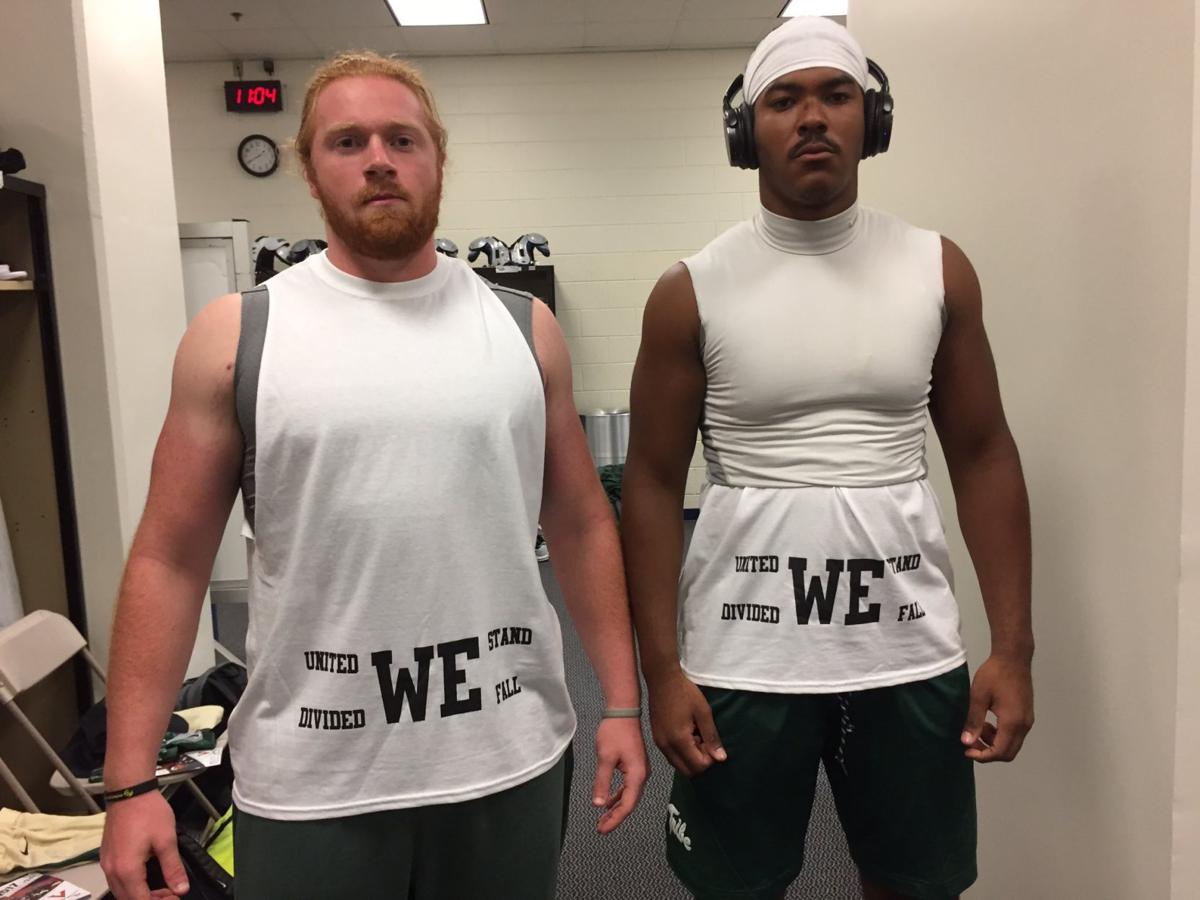 William & Mary defensive end Matt Ahola and wide receiver Anthony Mague show their support for the University of Virginia before Saturday's game. (William & Mary photo)
William & Mary's football team brought a pregame message to Charlottesville, Virginia, for its game against Virginia.
After coming onto the field shortly before the opening kickoff, the Tribe players locked arms, faced the crowd on their side of the field and most lifted their jerseys to display T-shirts with the message "United we stand. Divided we fall." The school said some players who are superstitious about what they wear for game declined to wear the T-shirts, but all displayed the same message somewhere during the show of unity.
The game was the first for Virginia since a white nationalist demonstration in the city three weeks ago turned violent, leading to three deaths and dozens of injuries. A moment of silence was also held before the game, not only for the victims of the Charlottesville rally but also for those lost, missing and affected by the flooding in the Houston, Texas area.
In what will be a season-long display of unity for all Cavaliers athletic teams, uniforms will display a patch with the hashtag "HoosTogether, a campaign on social media designed to unite the community in support of love, diversity and inclusion.
UVA athletic teams to wear HoosTogether uniform patches this year:https://t.co/igTwk81RzT pic.twitter.com/IRzUkNzICk

— Virginia Football (@UVa_Football) August 31, 2017
William & Mary's display was not just a commentary on the events in Charlottesville, but all the events of the last few months.
The school released a statement from the team that said:
"The expression represents our desire to make a positive statement about our shared beliefs in cultivating a society based on respect for people of all ehtnicities, cultures and backgrounds and one that embraces unity, civility and loving one another despite our differences."